Best Facebook MP3 downloader with super sound quality output.
Download PavoPlayer
PavoPlayer also allows you to watch a large number of movies and TV series for free, including the following popular movies.
Facebook MP3 Download Online
A Facebook MP3 downloader can make it easier for you to get to the audio content on Facebook. You don't have to find the video on Facebook every time you want to listen to it. Instead, you can download the audio file and save it to your device so you can listen to it whenever you want. YTBsaver Facebook to MP3 converter is a useful tool for users who want to download Facebook video to MP3 files from any page they choose. By downloading and converting the audio, you can easily listen to your favorite Facebook content offline, without needing to rely on screen recording or other methods of capturing audio content from Facebook.
Cross-Platform Compatibility:
YTBsaver works with many different platforms and web browsers, such as Windows, Mac, Android, iOS, Chrome, Firefox, Safari, and Edge. This means that users can use it no matter what device or operating system they have.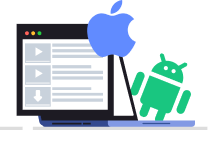 How to copy a video link from Facebook?
To copy a Facebook video link, follow these steps:

Open Facebook and find the video you want to copy the link for.

Click on the video to open it, and then click on the "Share" button located below the video or the three-dot button at the top right corner of the video.

In the pop-up menu, click on the "Copy Link" option. The video link will be copied to your clipboard.

Alternatively, you can right-click on the video and copy the link from the address bar.
Once you have copied the Facebook video link, you can use it to convert Facebook to MP3 or share the video with others.