Download PavoPlayer
PavoPlayer also allows you to watch a large number of movies and TV series for free, including the following popular movies.
Why convert YouTube to WebM?
YouTube is one of the most popular video-sharing platforms on the internet, with millions of videos being viewed every day. While YouTube supports a wide range of video formats, some users may want to convert their YouTube videos to WebM format for various reasons.
One reason to convert YouTube videos to WebM format is that WebM is a compressed video format that can provide high-quality video at relatively low bitrates. This can be useful for people who want to save space on their devices or upload videos to the internet more quickly.
Another reason is that WebM is an open and royalty-free format, meaning that it can be used without licensing fees or restrictions. This makes it a popular format for web developers who want to use video on their websites without incurring additional costs.
Converting YT to WebM can also make it easier to edit the videos. WebM is a widely-supported format, which means that it can be edited with a variety of video editing tools.
Finally, some software or devices may have limited support for certain video formats. In such cases, converting YouTube to WebM can ensure that the videos can be played on a wider range of devices and software.
Then a YouTube WebM converter comes in handy, in case you need to download YouTube videos in smaller file sizes while maintaining good video quality.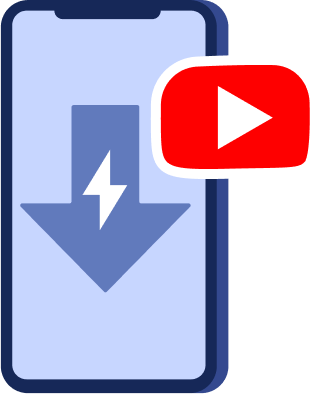 About YTBsaver YouTube WebM Downloader
While WebM is a popular format for web-based video content due to its ability to maintain good video quality while producing smaller file sizes, finding a reliable YouTube to WebM converter can be a daunting task. YTBsaver is such a popular YouTube WebM converter that stands out from the rest due to its notable features, including convenience, reliability, and fast video delivery.

High-Quality YouTube WebM Conversion
YTBsaver ensures that the output video maintains the same quality as the original YouTube video, so users can enjoy the same viewing experience without any loss in video quality.

Fast YouTube Download Speed
With a powerful server and a user-friendly interface that allow for fast download speeds, users can convert and download YouTube videos in WebM format quickly and easily.

High Security and Compatibility
As a safe converter, YTBsaver prioritizes the protection of users' devices and data during the conversion process. Using this tool, you can convert and download YouTube videos to WebM format from any device without any risk.

Free Versatile YouTube Converter
YTBsaver offers more than just converting YouTube to WebM format for free. You can also save YouTube videos in MP4 format, up to 4K resolution. Additionally, you can extract audio from YouTube videos with this tool.